Do the maths on your next car with our handy online calculator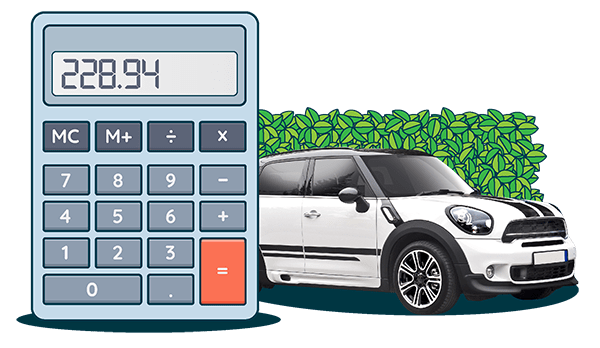 Part of Evolution Funding, the UK's
largest motor finance and technology provider
.

Part of Evolution Funding, the UK's
largest motor finance and technology provider
.
How to calculate car finance
My Car Credit's online car finance calculator is the quick and easy way to crunch the numbers on financing your next car. Start by entering your loan amount, repayment term and credit rating. The calculator will then give an instant breakdown of your expected monthly payments, typical rate and total payable.
Like what you see? Click 'Apply Now' to complete a full application. There is no obligation and no impact on your credit score since we only do a soft search initially. You'll be given an instant, online decision as well as an email confirmation. What's more, the rate you see is the rate you get!
A simple and hassle-free process
We work hard to find the right car finance deal for you. No matter what your credit score or financial circumstances, you are welcome to apply with us. We have the largest panel of lenders out of any broker in the UK. This means you've got the best chance of finding a deal that works for you and your budget.
Our approach makes the journey to your next car smooth and easy. You can read plenty of customer reviews which talk about how great we are to deal with. We have a slick online application process which allows you to sort out car finance from the comfort of your own home. You can even upload your documentation and e-Sign your agreement without needing to visit a car dealership! 
Still looking for the perfect car?
If you're needing a bit of help with finding the perfect car, our large and trusted network of car dealers are also on-hand. We have a vast range of nearly-new and used cars to choose from. In addition, we've done all the checks on the dealers listed to ensure they're reputable. Choose a car from a My Car Dealer and you're assured of peace of mind.
To get the wheels moving, simply enter your details into our car loan calculator and discover how the right finance plan could look for you.
Calculating Car Finance FAQs
Our calculator allows you to work out your monthly repayments against the amount you wish to borrow. Tell us what car loan amount you want, and what repayment term you'd prefer. Finally, tell us your credit rating – excellent, good, fair, poor, or bad. If you're not sure, you can get a free Experian credit score report. Alternatively, simply use the credit rating guide provided on the calculator. Once you've input just three pieces of information, you'll then see your likely repayments. We give you the typical rate of interest for your personal circumstances. We also explain the total amount payable. The calculation is subject to status but will give you an indication of what your finance options are. Our car finance calculator is free to use, with no obligation to apply for car finance.
Without a full application, we cannot give you an accurate quotation on car finance. This is because a tailored quote takes into consideration your personal circumstances, credit rating, status and income, and financial history. The car loan calculator provides an illustrative example but is a great way for you to see what your monthly payments could be, based on your credit profile.
A Representative Example appears underneath all of our car loan calculators. This allows you to see the typical costs associated with taking out a car loan. Our representative example details the loan amount, the representative APR, the duration of the agreement and the monthly repayment plan, any other potential charges or fees, the total cost of credit, and the total amount payable. As we are authorised and regulated by the Financial Conduct Authority (FCA), we abide by their guidance on the promotion of financial products. This means that we always ensure that our promotions are clear, fair and not misleading.
In a nutshell, the Representative APR is the rate that the majority of our customers (at least 51%) will get. This means that 50% of our customers are likely to get a better rate than the Representative APR and 49% of our customers will get a higher rate. The Representative APR is a way of allowing brokers such as My Car Credit to advertise finance produces in a way that allows you to easily compare our rate with other offers. It takes into consideration that every customer is offered a different rate dependent on their credit rating and individual circumstances.
The exact APR is sometimes called a 'personal APR' or 'real rate' since it is tailored to you and your circumstances. To get an exact APR, you'll need to complete an application by clicking the 'Apply' button. This takes you through our quick and easy online form, where you'll provide a small amount of personal information. This allows us to give you a decision on car finance based on your personal circumstances, your credit profile and financial history, and your current financial situation. Wherever possible, we give you an exact APR using soft search. This means you can obtain a 'real rate' quote on car finance from My Car Credit without worrying about it showing up on your credit history.
Our easy, online form takes just minutes to complete. You should have to hand:
• Contact details and email address
• Your current UK address (and previous address if you lived at your current address for under three years)
• Your employment details, including annual gross income (before tax)
Once you've applied online and received your decision, your personal Car Credit Specialists will get in touch with you. They will need a few more details from you, covered in this article "What paperwork do I need to get a car on finance?".
Your initial application is a 'soft search'. This is a search on your credit file that is not visible to other lenders. Using the minimal information provided in your application, we are able to make an assessment of your creditworthiness and give you an indication of APR. Where possible, we give you an exact APR (dependent on your individual circumstances). A soft search is a great way of finding out if you will be accepted for car finance without risking a mark on your credit file. Please bear in mind that when you proceed with the car loan quote, most lenders will then perform a hard search.