Throughout the COVID-19 outbreak, My Car Credit has balanced the needs of our customers with the safety of our staff. Remote working has allowed us to continue providing a service to customers, without putting our staff at risk.
However, with lockdown measures now being gradually lifted, we're delighted to say that we have now been able to welcome some of our car credit advisers back to the office. Rest assured, we've done a full risk assessment, with a range of measures in place to keep everyone safe.
Social distancing
One of the most important measures to slow the spread of the virus is social distancing. While the Government has amended the two-metre rule to allow more people to return to work, two metres is still the safest distance to keep between people wherever possible.
We've taken all reasonable steps to maintain a two-metre distance throughout our workplace. Where that's not possible, we've made sure there are other measures in place to manage the risk of transmission. Our staff will also be encouraged to make meetings virtual, so there won't be any unnecessary face-to-face interactions despite being back in the office.
Capacity
To facilitate social distancing, we've also considered the amount of people in the office and its different areas. While most of our team will be returning to the office, some will be based remotely – which will help us keep more space between office-based team members.
Additionally, there will be a maximum capacity displayed for each room, depending on its size. We've also recommended that meeting rooms are only used if essential.
Hygiene
With the virus potentially being able to survive on surfaces for several days, hygiene is critical when it comes to slowing the spread of COVID-19. My Car Credit has introduced strict and methodical cleaning and hygiene procedures across our workplace.
That includes instructions for regular and thorough hand-washing, as well as cleaning desks and workspaces.
Awareness
Most importantly, we've made all staff aware of the changes and new guidelines. Our risk assessment has been sent to all staff returning to the office, and we've produced a comprehensive collection of posters which will be displayed throughout the office.
Long copy posters will be used in rooms with high dwell time, allowing staff to read through them. But we also have short copy posters for places with lower dwell time like corridors, so staff can read them at a glance. These are supported with maximum room capacity posters displayed in kitchens and other communal areas.
Finally, we're promoting a cooperative and collaborative culture. Staff will be encouraged to say if something isn't okay – if someone isn't sticking to the guidelines, for instance.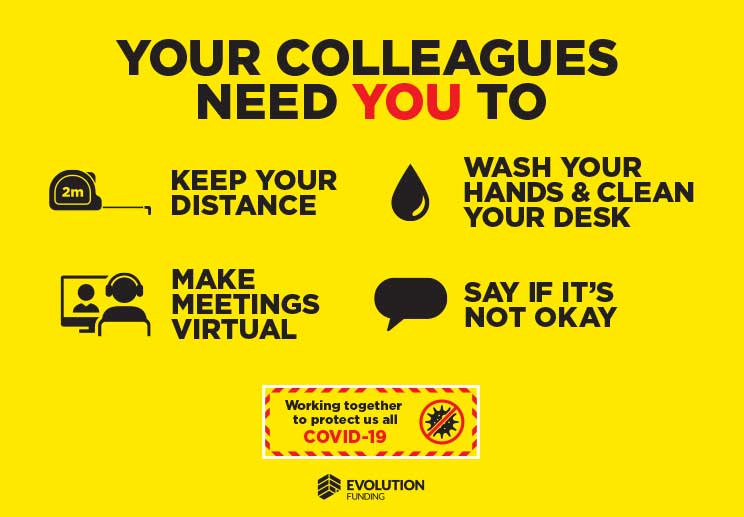 Feedback from our staff
"I think the company has done everything they possible could to keep us safe in the environment we work in. It's so nice to see physical faces instead of seeing them over a computer screen and working in general is far less stressful as we have all the tools we need to get the job done." Georgia
"I'm ecstatic to be back! It's nice to get to some form of normality. The company have made me feel safe and secure and have done an excellent job. Hats off to the team who came in to sort the offices out!" Callie
"I think the measures the company have put in place are really great. It keeps me and my work colleagues safe and that's all we can ask during these times." Andy
We're here to help
Above all else, our staff are happy to be back in the office as that means they can help our customers to the best of their ability. If you want to find out more about car finance or get approved, don't hesitate to calculate car finance and make an application or contact our team on 01246 458 810 or enquiries@mycarcredit.co.uk.
Representative APR 10.9%
Evolution Funding Ltd T/A My Car Credit
Got a question you can't find the answer to, or need some advice and guidance around taking out car finance? Our Car Credit Specialists are friendly, experienced, and here to help so get in touch today!